LET'S SCHEDULE YOUR FREE ROOF INSPECTION
If your property has been hit by a recent storm, you suspect you have a leak, or have a feeling that something just isn't quite right with your roof, schedule your 100% free roof inspection with us today! Maven offers roof inspections for all homeowners & commercial property owners in Eastern North Carolina.
BOOK YOUR
FREE INSPECTION
Submit your info below to schedule
your free roof inspection
directly in our team's calendar!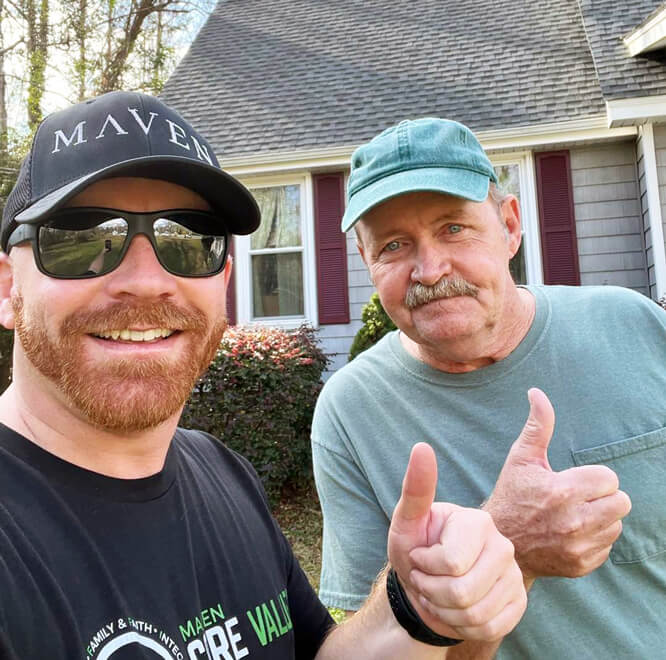 WHAT CAN I EXPECT WITH MY

FREE ROOF INSPECTION?
Our goal with every free roof inspection is to become your "Trusted Advisor" to identify any damage to the roof of your property.
We present our findings through a detailed Inspection Report. This will include photographic data detailing your roof's condition, an explanation of existing problems, and recommendations on how to best move forward.
This can include either filing an insurance claim to get your roof repaired or replaced by your insurance company, or us providing a Free Quote for cost-effective roof services.
After you receive your free roof inspection, you are still under no obligation to move forward with any services. We simply want to be here for you during your time of need.
WHAT ARE THE STEPS
IN MOVING FORWARD?
Schedule Best Date & Time For Your Inspection
Either submit the form above on this page here or give us a call at (910) 294-9817 to schedule your free roof inspection on the best date and time for you.
Be Present At Your Property For Best Experience
We ask for you to be present at your property to ensure our team member is able to answer any questions you may have, as well as to ensure accessibility to your property.
View The Results Of Our Findings
We present the results of your free inspection to you. After you receive the results of our inspection, you are still under no obligation to move forward with any services.