If you are a fan of the show Outer Banks like I am, Emerald Isle is the place for you! Located within the Crystal Coast, on the southern portion of the Outer Banks, Emerald Isle's small-town appeal has made it a popular beach destination for many. This 12-mile stretch of island is surrounded by the Atlantic Ocean and the Bogue Inlet Sound. This stretch of island was purchased by Anita Fort Maulik in 1954, later named Emerald Isle. Known for it's beaches, excellent fishing and wealth of marine life Emerald Isle is sure to be an attraction for all. Did you know that the infamous pirate Blackbeard once made a home along the Crystal Coast? This is just one of the many extraordinary historical learnings you will discover as you learn more about the area.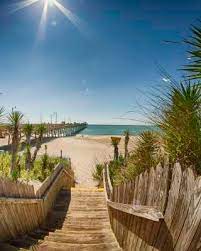 Swimming, fishing, surfing, snorkeling, scuba diving, boating, sailing, windsurfing, kayaking, shell hunting, duck hunting and all things aquatic, sightseeing, shopping, golf and much, much more. The beaches along Emerald Isle and the Crystal Coast are so close to the Gulf Stream, the waters present a beautiful turquoise color and offer a warmer alternative to the colder waters found along the northern parts of the Outer Banks. The coastal waters are also home to an abundance of marine life and hundreds of amazing shipwrecks available for exploration, making it a popular destination for scuba diving. Museums, galleries, guided historical tours, amusement parks and fishing, hiking, and water adventures, Emerald Isle is fun for the whole family.
Walk around town and you're sure to find a Maven roof!
Would You Like To Share This Article?
Search For Another Article: