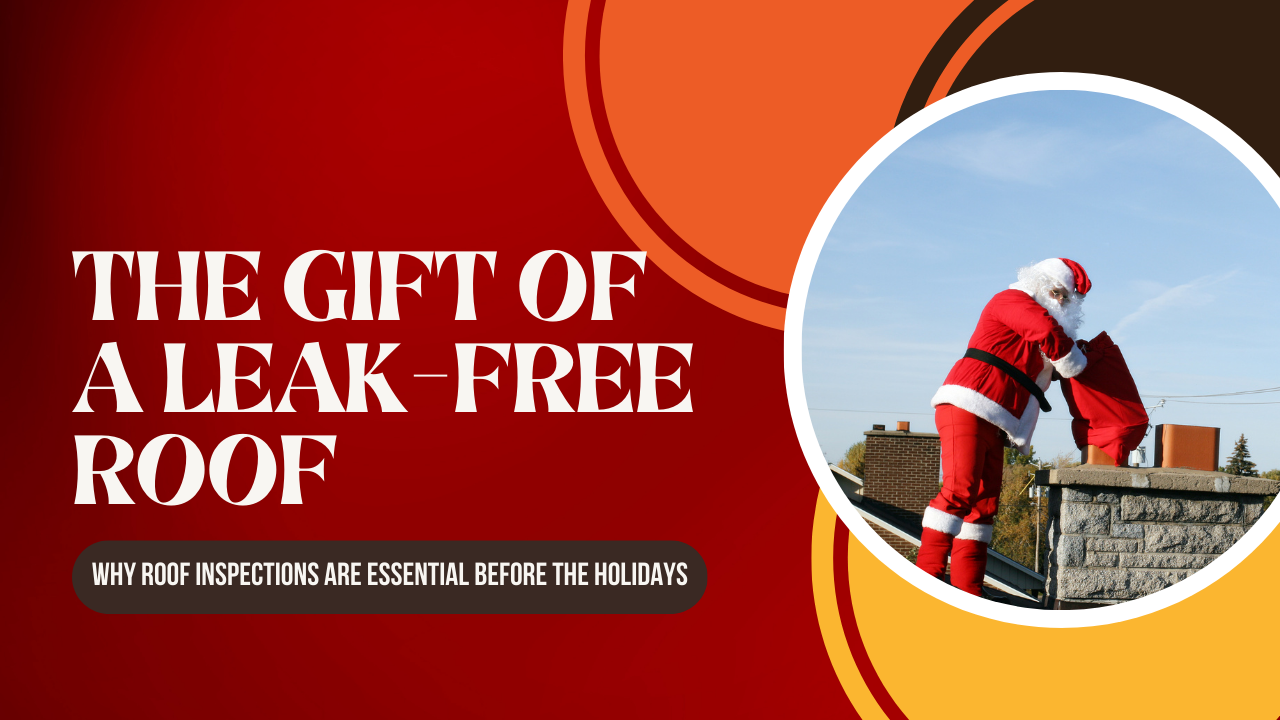 As the holiday season approaches, many of us are busy planning family gatherings, decorating our homes, and creating cherished memories. While the holiday spirit fills the air, it's essential not to overlook the importance of a secure and leak-free roof. After all, what better gift can you give your family than a warm, cozy, and worry-free home during the holidays? In this article, we'll explore why roof inspections are essential before the holidays, and how Maven Roofing can help ensure your celebrations remain joyful and stress-free.
The Holidays and Your Home
The holiday season often brings unpredictable weather, from heavy snowfall to rainstorms. Your roof plays a crucial role in protecting your home from these elements, ensuring that your holiday celebrations can go on without a hitch. Here are some reasons why roof inspections are a thoughtful gift to your family this holiday season:
Prevent Unpleasant Surprises: A leaking roof is never a pleasant surprise, especially when you have guests over for the holidays. A pre-holiday roof inspection can identify and address any potential issues, preventing leaks and water damage.
Ensure Comfort and Safety: A secure roof keeps your home warm and dry, providing a comfortable and safe environment for your loved ones during the festive season. Avoiding leaks and drafts is key to maintaining a welcoming atmosphere.
Protect Your Decorations: Many of us invest time and effort into decorating our homes for the holidays. A well-maintained roof helps safeguard your decorations from water damage, preserving your festive spirit.
Peace of Mind: Knowing that your roof is in excellent condition allows you to focus on what truly matters during the holidays—spending quality time with family and friends. Roof inspections provide peace of mind.
Why Choose a Maven Roof Inspection?
At Maven Roofing, we understand the importance of a secure roof, especially during the holidays. Our roof inspections are thorough and conducted by experienced professionals who take pride in their work. Here's why you should consider a Maven Roof Inspection before the holidays:
Comprehensive Evaluation: Our experts will conduct a comprehensive evaluation of your roof's condition, identifying any signs of wear, damage, or potential issues.
Transparent Reporting: We believe in open and honest communication. You'll receive a detailed report of the inspection findings, along with recommendations for any necessary repairs or maintenance.
Same-Day Estimates: We offer same-day estimates for any recommended work, ensuring that you have all the information you need to make informed decisions before the holidays.
Flexible Financing Options: If repairs or maintenance are required, we offer flexible financing options to fit your budget. We want to make it easy for you to ensure a leak-free holiday season.
This holiday season, give your family the gift of a leak-free roof and a worry-free home. A Maven Roof Inspection is a thoughtful way to ensure that your home remains warm, cozy, and secure during your holiday celebrations. Don't let roofing issues dampen your festive spirit. Contact Maven Roofing today and schedule an inspection to ensure that your holidays are filled with joy and peace of mind. After all, there's no better time to show your family how much you care about their comfort and safety.
Would You Like To Share This Article?
Search For Another Article: